There are tremendous health, pollution and congestion reduction benefits [1] of encouraging a shift away from personal, motorised transport.  The most recent national census [2] shows that many people commute daily in one direction or the other between Guildford and Godalming, but few currently walk or cycle.  Of course, journeys between the two towns are made for many other purposes as well.  The relatively flat terrain between Guildford and Godalming recommend it as route for walking and cycling and a well-constructed greenway could attract people towards forms of transport other than the private motor car.
Surrey Cycling Strategy 2014-2026 sets out a vision to get more people in Surrey cycling, more safely [1].  The Waverley Local Plan and The Waverley Cycling Strategy also propose the provision of cycle-friendly infrastructure as a means to encourage sustainable transport and to ease congestion on local roads.  A green route away from traffic will  make it easier and safer to walk and a good surface will benefit wheelchair users and parents pushing prams and buggies.
Some of the route is already served by paths on which cycling is permitted.  However, the quality of these paths renders them less than ideal and, in some places, there are issues that actively deter their use by bike or wheelchair.  Also, the existing paths do not provide a continuous route.  The plan is to improving the existing paths and join them up to provide continuity.
The route passes through or close by towns and villages that, together, have a population of around 160,000.  Branches to Cranleigh and Elstead add a further 16,000.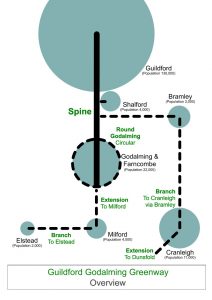 Shops and other local services exist at most of these locations: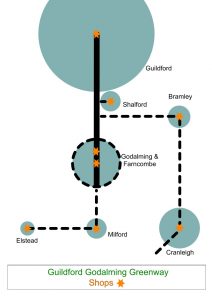 The Greenway would serve many schools and colleges: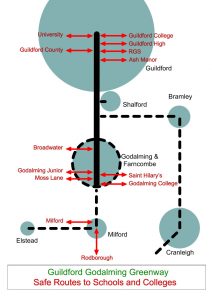 It passes close to 5 rail stations: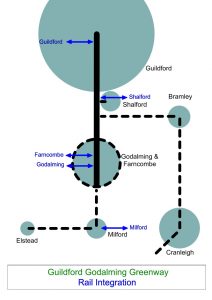 Other significant destinations are close by: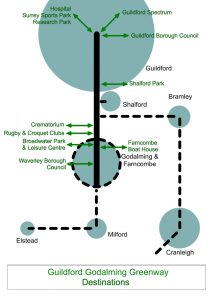 [1] Surrey Transport Plan – Cycling Strategy 2014 – 2026, Executive Summary, Page 4
[2] National Census 2011 – Of the 3,840 people who recorded a commute between Guildford and Godalming (or vice versa) on the day of the census, the vast majority (2,957) travelled by car.