Farncombe Village and Train Station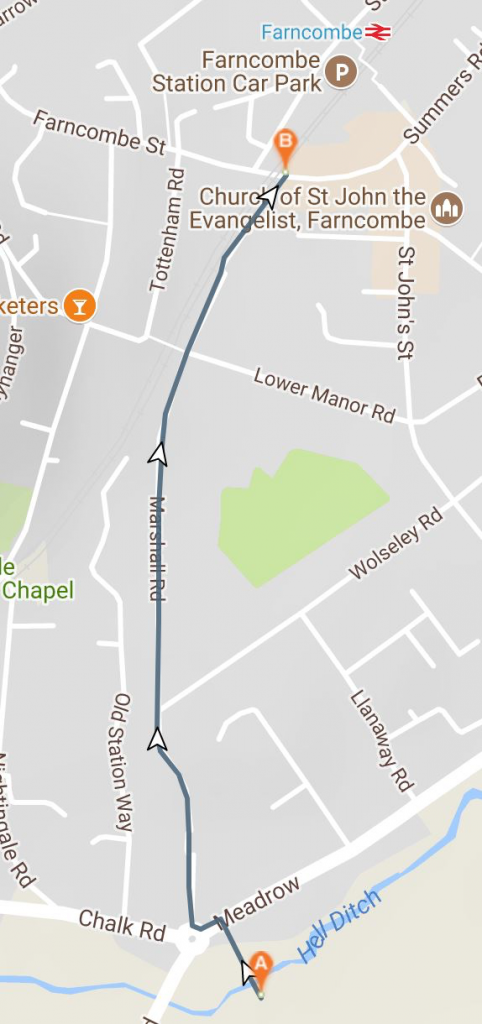 From the spine route near the Meadrow/Chalk Road roundabout this links to Farncombe Village and train station.  From here there are quieter, residential roads serving the population of Farncombe and Binscombe.
Why is this link important?
This branch is an essential part of the proposed greenway network.  By linking into the Guildford to Godalming spine, it will serve the important role of joining Farncombe and Godalming.  The distance between these two centres is just one mile yet often people choose to drive between them rather than walk or cycle.  Anecdotal evidence suggests that the busy roads and road crossings deter people from walking and cycling.
The provision of a greenway route will encourage people to try alternative modes of travel, reducing pollution and congestion and improving health.  It will provide an attractive route for people to get from their homes to shops, schools, train-stations and local leisure facilities.
The proposed route capitalises on the excellent link that has been established alongside Jewsons between Chalk Road and Marshall Road by improving the remaining Godalming to Farncombe route.
At the Godalming end, a new bridge over Hells Ditch is proposed which will join the Guildford to Godalming spine to the Marshall Road link via a shared-use crossing of Meadrow.  The crossing will also benefit children and parents travelling to and from Godalming Junior School which is close by.
Towards Farncombe, Marshall Road provides a relatively quiet and well surfaced route almost to Farncombe Village.  At the Farncombe end of Marshall Road, a short section of footpath requires upgrading to complete the link to the level-crossing.  From here shops and the station are all easily accessible and onward travel to Broadwater and Binscombe is easy.